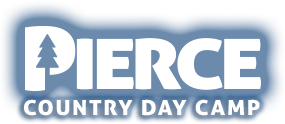 GENERAL

We take pride in the many important details of our camp that all add up to what we call "The Pierce Difference". We endeavored to list the highlights for you below:

"Children First" – Our mission statement is simple, rock solid and unwavering. Our whole camp community is intentionally structured to provide care and support for each individual camper to thrive. We believe in partnering with our parents to understand each child and provide an environment where they can grow and get the most out their camp experience.
Best Staff to Camper Ratio in all of Day Camping – What truly sets Pierce apart, are its people. Pierce has been family owned and operated by the Pierce family for over 100 years and 4 generations of continuous family leadership. Camping is our passion and is reflected in the consistency and commitment of our incredible staff.
Unparalleled Facility and Program – For over 100 years, we have continuously reinvested in our beautiful campus and fine-tuned our program. We believe the result of this dedication to constant improvement has resulted in the finest facility and program in all of day camping…come visit and see the difference for yourself!
Dedicated Cabin and Personal Space – Our 27 acre campus allows every camper and group to have their own cabin to call "home" for the summer. A comfortable place to keep belongings, change for swim in their own personal space, and bond with friends.
Family Owned Bus Transportation – Transportation to and from camp is provided in air conditioned buses owned and operated by our family bus company with the highest safety rating in the state of NY. Other camps rely on third party transportation... not at Pierce!
Laundry and Towels – We supply the towels and launder bathing suits daily in our on-site commercial laundry facility. No need for you to be dealing with wet laundry or towels constantly going back and forth between home and camp. We handle it all here!
Lunch and Snacks – Healthy lunch options, drinks, sandwiches, snacks and ice cream/ices are provided on a daily basis to keep our campers well fueled and hydrated! Our air-conditioned dining facilities also provide a chance for our campers to cool down and refresh in the middle of a busy day.
And much, much more – Come visit us and see "The Pierce Difference" for yourself…we hope to see you soon!

PROGRAMS AND ACTIVITIES

Buses begin to arrive at 8:50 a.m. The camp daily activity schedule begins at 9:30 a.m. Our daily schedule concludes at 3:45 p.m. with dismissal at 4:00 p.m. Our Mini-Day program for 3 & 4 year olds ends/dismisses at 2:00 p.m. each day.

All groups will be engaged in a broad-based curriculum that appeals to a wide range of interests. Everyone swims twice daily (except Mini-Day campers who only swim 1x per day). A strong mix of athletics, fine and performing arts, adventure activities and Special Events are planned on a daily/weekly basis. We pay careful attention to issues like heat/hydration, attention span, stamina etc. We employ an age-appropriate approach that considers length of periods, type of equipment and size of fields/courts. We offer a balanced menu of camp activities for maximum variety and FUN!

At Pierce, we have an unmatched Aquatic facility and staff. Seven temperature-controlled pools, including our Olympic indoor pool, the Aqua Dome, set the stage for our famous swim program. All of our pools have been designed to accommodate the needs of a specific age group.

Campers are grouped in the water according to ability. We maintain records on each camper at poolside as well as in our main office computer data base. Our swimmers are tested on a weekly basis at a minimum. Of course, campers are not always aware that we are conducting a review of their progress.

Our goal is to have all of our campers progress in the water. We follow the American Red Cross swimming curriculum. Swim instruction is taught by our large, talented certified lifeguard staff. We pay close attention to each camper's progress and make the necessary adjustments so all campers grow and succeed. When one-on-one attention is needed, we will make sure that it happens.

COMMUNICATION

At Pierce, we believe in creating a strong communication system with our parents. This begins with a phone call before camp starts and continues throughout the summer season. We view our relationship as a partnership, with the central goal being your child's happiness. Our summer office hours are between 7:30 a.m. and 5:30 p.m. daily. Our after-hours answering service accepts calls thereafter. We regularly monitor this service. 516.621.2211.

Your child's Group Leader will be your primary contact here at camp. He/she will be in touch with you on a frequent basis. Should you want to speak with your camper's Group Leader, call our office and we will get him/her to you as soon as possible.

FOOD AND SAFETY

All of our campers dine daily in one of our two spacious, fully air-conditioned dining rooms. Our three through six-year-olds will eat in our Mansion's dining room and our seven-year-olds and older will eat in our beautiful new Clubhouse. Both dining rooms have their own food service staff and kitchen.

The food at Pierce is absolutely the best in all of camping! We are committed to providing a tremendous variety of fresh, delicious, nutritious choices in an exceptionally clean and friendly atmosphere. Each day we offer a full menu plus a fresh fruit bar, a salad bar, and vegetarian, kosher, and gluten-free options. Lunch is included in the camp tuition and 100% of our campers participate in our lunch program. All campers also enjoy a refreshing afternoon ice cream break.

Our kid- friendly menu has something to satisfy everyone! At every meal we offer our regular menu plus a wide variety of "substitute" lunch items. Available daily are butter & jelly sandwiches, meatballs, fresh cut cold cuts, assorted sandwiches, fresh tuna salad, assorted yogurts, fresh garden salad and fresh fruit.

Pierce is fully committed to handling all dietary restrictions and food allergies in an efficient and professional manner. Individual attention is the hallmark of how we handle this vital safety issue. Your child's Group Leader will take care of all food allergy matters for your camper. He/she will communicate with parents about individual needs and serve as a liaison between home and the food services division at camp. We also have a staff member in our office who is responsible for handling food allergy questions.

Pierce makes every effort to be a "Peanut Safe" camp! We maintain all food labels on file in our office for parents to review prior to camp should they wish. We will also gladly arrange for pre-camp meetings between parents, campers, Directors, Group Leaders and our chefs.

Pierce has a very extensive staff training program relating to readiness for allergy-related issues. If any group or bus includes a camper with food allergies, we insist that the Group Leader, General Counselor, Bus Driver and/or Bus Counselor be trained in CPR or Epi-Pen certification. We certify well over 100 staff members in CPR, Epi Pen & First Aid through our very close relationship with our local Red Cross Chapter.

Yes, we have a modern air-conditioned infirmary. Our infirmary is staffed full-time with 2 Registered Nurses and a Nurse's Assistant. We also have a Pediatrician on our camp grounds every afternoon.

SESSIONS AND GROUPING

We have "Great 8," our most popular eight-week session, a seven-week option called the "Lucky 7", a six-week option called "Pick 6", a five-week option known as the "Fabulous 5", and a four-week option called the "Fantastic 4".

Your choice! You choose whichever 4, 5, 6 or 7 weeks best fits your family schedule. You can change your schedule at camp any time before camp begins by contacting our office. As for "trading up" and staying at camp for a longer time frame... we love it! Just call the office and we will gladly accommodate your request. We anticipate a lot of that happening!

Campers are grouped according to grade in school completed. We will have multiple groups for each age/grade. We maintain a strict limit as to the size of our groups and will not compromise established ratios and group numbers. When you enroll, you may enter requests for your child's group on the "Camper Application." This request card provides the opportunity to make your requests for your child's friends to be grouped with one another. We ask that you limit requests to two, as the requests are numerous and at times it can become a mathematical issue.