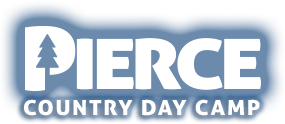 Pierce Country Day Camp—Meeting Campers Needs At Every Stage!

Pierce has something for everyone and FUN for all! We offer a variety of special programs to meet the needs of campers at every stage. We know that our campers are always growing, so we are committed to growing right along with them!

Mini Day Option for Three and Four-Year-Olds

Our popular Mini-Day Program is perfect for the beginning Pierce camper. The Mini-Day has a regular morning arrival time and an early 2:00 p.m. dismissal. This program includes very close ratios, superb facilities and a warm, nurturing staff. Mini-Day campers enjoy an early childhood recreational curriculum that is second to none. Our Mini Day Program has a limited geographic area for transportation, so check with our office (516.621.2211) to see if we service your neighborhood.

Pierce Camps Flex Plan

Labeled "the best of both worlds" by our parents, the Flex Plan provides campers in our seven year-old groups and older the opportunity to enjoy their summer in two totally different environments. Campers can spend a flexible number of weeks at Pierce Country Day Camp as well as enroll in one of our sessions at Pierce Camp Birchmont, the Pierce family's renowned sleep-away camp. This program is a very popular option for first time sleep-away campers and allows families to create summer plans that fit their schedule all while keeping their children within the Pierce family of camps that they can trust. Campers feel more secure transitioning from day to resident camp as Pierce Camp Birchmont (www.campbirchmont.com) is under the Directorship of Doug's brother Greg and Greg's wife Laura.

SCOPE: Senior Campers Off-grounds Program Extravaganza

SCOPE takes the Senior and Super Senior experience to the next level! This unique program includes the elements of a traditional camp day as well as an exciting weekly trip. Campers love bonding with friends and counselors as they travel to exciting locations. Past trips have included Splish Splash Waterpark, The Bronx Zoo, Broadway plays, Mets games, fishing excursions, Medieval Times Jousting/Feast and a whole lot more! Our oldest groups, the Super Seniors, also enjoy a 2-3 day "Super Trip" each summer that includes an overnight component. Past trips have included Hershey Park, Great Adventure, Club Getaway, Washington DC and more!

FAST Track Program: Fully Assisted Staff Training

The Fast Track Program is for all campers who have completed 8th or 9th grade. This program is Pierce's version of a C.I.T program, designed specifically to assist in the transition from camper to staff member through building leadership skills. Fast Trackers will be transported to and from camp on Pierce vehicles with door-to-door service. They will work alongside an experienced senior staff member in one of many "Specialty" areas here at camp. Working closely with our Fast Track Supervisor, Fast Trackers will choose the activity areas through which they would like to gain experience. Lunch and an afternoon ice cream snack will be provided along with full insurance coverage. Enrollment in this program will be limited.

Another Pierce Exclusive…The Pierce Jitney to the East End of Long Island

A Pierce Day Camp exclusive! Every Friday afternoon, Pierce provides luxury bus service for campers whose families spend their weekends on the beautiful East End of Long Island. Campers depart every Friday afternoon at 3:00 p.m. aboard an air conditioned, video and bathroom equipped luxury tour bus. We dispatch one bus to Westhampton, one to Southampton and a third bus to East Hampton. Each vehicle is staffed by Pierce Day Camp personnel equipped with cell phones, snacks and arts & crafts supplies. Sign up will be offered to all in the spring. See you out East!