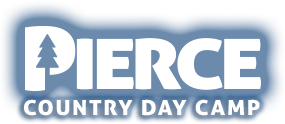 The Pierce Country Day Camp Team

Each member of the Pierce team makes important contributions towards creating a phenomenal summer for our campers. The following job descriptions offer some brief insight into the summer staff positions available at Pierce. A complete personal interview is necessary for all prospective staff. During this interview we will provide comprehensive information regarding job requirements and responsibilities.

Group Leaders

Group Leaders are adults in charge of a specific age group of campers and those campers' assigned staff members. For example, a group of 20 five-year-old boys would be supervised by one Group Leader and a staff of 4 General Counselors. A Pierce Group Leader is a college graduate who is a parent, teacher or coach. The Group Leader's main responsibility is to ensure the safety and welfare of their designated campers and staff. Group Leaders are also responsible for overseeing camper progress while keeping to our camp schedule. They additionally serve as the direct link between camp and home, and must be capable of maintaining a strong camp/parent partnership.

Group Leaders must possess strong organizational and leadership skills, be adept at multi-tasking and be able to motivate their General Counselors and campers. Successful Group Leaders are enthusiastic, supportive, caring and kind individuals. They possess strong communication skills and are spirited, reliable and professional at all times. We have an exceptionally high return rate at the Group Leader levels…Our GL's are highly experienced, capable camp pros!


General Counselors

General Counselors are the "foot soldiers" of our camp-wide staff. Each group at camp has several General Counselors assigned to it. These General Counselors maintain a high level of supervision at all times as they care for campers and assist them in all activities.

A General Counselor must be an enthusiastic, caring individual with the capacity to be a supportive role model. General Counselors must possess the ability to work well with children ages 3 through 15. They also need a strong background in sports, the arts and swimming. General Counselors must be fun-loving, spirited, reliable and conscientious. They should have a sincere interest in serving as a strong, positive influence in the lives of our wonderful children.


Activity Specialists


Activity Specialists are expert teachers who develop and implement a dynamic eight-week long program in their assigned area. To be an Activity Specialist you must be a college graduate who is a parent, teacher or coach. You must also possess a high level of experience and expertise in a particular area

such as Basketball, Sports, Drama, Arts & Crafts, Studio Art, Imagination Station, Bungee, Hockey, X- Games, Tennis, Rhythm, etc.

An Activity Specialist's skill set must include the ability to lead campers through a curriculum-based program in a specific area. Activity Specialists must be prepared at all times with lesson plans and the appropriate equipment and materials to be successful. They must also maintain a clean and well-organized activity area. Pierce Activity Specialists are safe, creative and spirited in their approach to campers at all times. Activity Specialists need to be able to motivate campers and staff, teach skills and create FUN!

Lifeguards


Pierce maintains a staff of over 40 Nassau County Certified Lifeguards and American Red Cross Water Safety Instructors (WSI). All pool staff members are also required to have current CPR certification. At Pierce we have an unrivaled Aquatics Complex. Our seven pools, including our Olympic Indoor Pool "The Aqua Dome," are second to none. These spectacular pools, paired with our fantastic Water World waterpark/sprayground, allow us to provide campers an unparalleled Aquatics experience. Nobody does it better!

Each of our 7 pools has a Head Lifeguard and a large staff of additional guards. Their responsibility, first and foremost, is SAFETY! Each swim (2 per day) is equally divided between Red Cross Instruction and Free Swim. All guards split time between safety supervision, pool monitoring and hands-on instructional responsibilities. We are very proud of our famous swimming program and facilities. We only hire swim staff who are 100% committed to the safety and learning of all our campers.