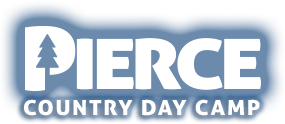 RESULTS: 100% SUCCESS

Each day this summer, we welcomed over 700 campers and staff to Pierce following our operating guidelines designed for COVID and had ZERO cases in our camp population.

How We Decided To Open Camp During a Pandemic

Will Pierce and Courtney Pierce-Philippou, Owner/Directors

Our mission statement is simple and has been unwavering ever since our great grandfather, Pop Pierce, opened America's first day camp in 1918: "Children First!"

In that spirit, let's start there. Our number one criteria for deciding to open camp was always the health and safety of our campers, families, and staff. We knew we would be able to follow and exceed all NYS requirements to open camp, but more importantly our family has 5 children between the ages of 3 and 7 who all attend our day camp. We decided we would only open if we felt fully confident we could do so while ensuring their health and safety too.

We are all very fortunate that COVID19 presents an extremely low risk to the safety of our camp population. In our long history we have faced threat of other illnesses where this was not the case: Measles, Polio, H1N1, SARS, Swine Flu, Bird Flu, Zika, West Nile and even the Spanish Flu in our inaugural summer of 1918. While COVID19 is much more disruptive to daily life than these past threats, we are fortunate and thankful that it did not pose a major risk to our camp population.

Children had been unfairly bearing the brunt of the changes brought on by this pandemic. Many had been on lock down in their homes since March with no school or organized activities. As experts in child development and in conjunction with our medical team, we made the decision that we believed to be in the best interest of children; we decided to open camp and give our children the physical and social-emotional benefits that camp provides and of which they had been deprived for months.

HOW WE DID IT

We followed a multi-layered approach that met or exceeded all NYS safety guidelines. We have listed the highlights below which are a combination of some practices unique to Pierce and some that other camps also followed:

On-Site COVID Testing Laboratory: We became a certified COVID testing laboratory under the direction of our camp pediatrician and were able to monitor our population as needed.
Pre-Camp Tests: We required a negative COVID test for all campers and staff for the first day of camp. This ensured we were starting with a fully healthy population.
Health Screening: All campers and staff were temperature checked and health screened daily upon entry to camp.
Cohorts and Limited Camp Capacity: We divided camp into completely separate cohorts of 15 campers each and voluntarily limited our camp capacity. We are fortunate here at Pierce to have a spacious 27-acre campus with 7 pools that allowed us to do this without compromising our camp programming. Our facility layout also allowed us to keep each cohort completely separate from others at all times throughout the camp day.
Outdoor Only Activities: We set up over 30 tents around campus to allow for all activities and dining to occur 100% outside.
Face Coverings: Camp staff were required to wear face coverings at all times, but NYS day camp guidelines allowed campers not to wear face coverings when outdoors.
Cleaning and Disinfecting: All common areas and shared equipment were sanitized on hourly schedules and/or between use by each cohort using EPA approved cleaning agents. All of these areas were also treated daily with an electrostatic cleaning spray and treated with Viaclean's hospital grade Bioprotect long-lasting disinfectant.
Hand Sanitizing: Each cohort had their own portable bottle of hand sanitizer which was used between each activity throughout the day.
Water Distribution: All water fountains were removed and replaced with bottle filling hardware and disposable cup stations.
Outside Vendors and Trips: No outside vendors/entertainment were permitted at camp this summer and there were no off-grounds trips.
Sick Policy: Campers or staff exhibiting any symptom of COVID must stay home and require clearance by a doctor's note and a negative COVID test result to return to camp.
And many other details: We also followed all other NYS day camp operating guidelines to ensure a safe and healthy summer for all!

HOW WE FELT

Summer 2020 was one we will remember for many reasons. In the end though, the lasting memory will be that it was the most important summer we have ever had. The benefits of camp for our campers were never felt as deeply as this summer. As camp owners and directors, Summer 2020 was the most fulfilling summer of our careers. As camp parents, there was no better gift we could give to our children. And we are ready to do it all over again for Summer 2021, our 104th summer here at Pierce Country Day Camp!

How Our Camp Families Felt

I would be remiss if I didn't take a moment to let you know how much Summer 2020 meant to the Skor family. I'll admit that if you had asked me back in May if I'd be writing this letter, I would have told you ZERO chance. I never had a lack of confidence that Pierce could pull off a program in the midst of a global pandemic but I had become quite cynical that the other factors were going to squash the possibility. Low and behold, you got the green light and let me tell you - YOU DELIVERED!!!

Thank you from the bottom of our hearts for giving our children the most magical experience and allowing them to feel "normal" in an otherwise very uncertain world. We are GRATEFUL!

Well, I'm crying! You guys are incredible. You were able to make the impossible possible and give Aidan, and all these kids, the most incredible, safe summer that none of us will forget.

The chaos and uncertainty in the world is overwhelming for us as parents and is definitely palpable for the kids. It's comforting and a huge relief (and a miracle) that they were able to experience a "normal" summer. Aidan listed this morning all of the things he is going to miss about camp- and it was both heartwarming and a little sad. We don't want camp to end!

Thank you thank you thank you! Wow- what an incredible summer! We don't know why but this summer just seemed so magical- maybe the kids needed camp so much more this year (or we did), Or It was just such a long shot that It would actually work (and omg It worked!), or it's the fact that our children were able to make some "new" and amazing friendships.

We truly feel that summer 2020 at Pierce has been one of the best! We cannot express how grateful we are that you put yourselves, your staff and your business on the line the way that you did through this pandemic, through rain storms and on some days without power! Thank you again and we look forward to seeing you in 2021!

I just want to say thank you for everything this summer. I am sure these few months were beyond stressful for you but please know how happy you made so many children and their parents. Your staff is top notch and were incredible and you handled the most challenging & difficult time in most of our lives with ease. You should be so proud. Haileys smiles and and pure happiness and just being a kid again were so needed. She turned into herself again because of camp. We can't thank you enough from the bottom of hearts.

Thank you thank you thank you! Enjoy the rest of your summer, you deserve it!

Thank you so much for giving our kids the gift of camp in these very uncertain times. On the way to his last day at Pierce this summer Robert said he wanted to move into Pierce for "200 days!" Our son Robert had the best summer and it truly brings tears to my eyes that he was able to have this experience at Pierce. He will definitely be back next summer!

I do not think words can express what camp provided for him. Although his swimming skills improved, he gained confidence and made new friends, I think more importantly this summer, camp gave him some gifts we have taken for granted in the past: a sense of normalcy and routine, the ability to hug another child, to high five, to play, to laugh...to just be a KID!!! Thank you for all of these gifts. We are so happy to have joined Pierce this summer and look forward to many future summers at Pierce!!

I am in tears. I have been since I dropped Gemma this morning. Words can't begin to express how grateful I am that my child was able to have the most incredible summer of her life, despite the current situation. But, I am not surprised - I knew if any camp could finish all six weeks without a shutdown, it would be Pierce. The counselors and Connie were FLAWLESS!!! The spirit at Pierce was there more than ever and I absolutely LOVED driving through camp every morning, reliving my own memories from when I was a Pierce camper. It is incredible to me that even after 20+ years, my children are able to experience the same exact magic of Pierce that I experienced and sing the same EXACT songs!

As you said, the next 10 months are completely unknown for us, but knowing that BOTH of my children will have their 2021 summer at Pierce to look forward to, is what keeps me at ease. Thank you from the bottom of our hearts for all your hard work. We are forever grateful and will continue to spread the word to everyone we know! As I wrote in my email to you on the first day of camp, Pierce is a staple in our community and there is no doubt its legacy will stand the test of time.

I cannot thank you enough. What you two, and Pierce as a camp gave us, our family and our community is immeasurable. It was SO needed, and you delivered day in and day out and so far above any expectations I had. Thank you from the bottom of my heart, it will not soon be forgotten.

You really outdid yourself this summer! I'm fighting back tears of joy thinking about the gift of summer you gave to our children and to us. We are so grateful for all of your hard work, determination and true passion for what you. You are brave role models and an inspiration for the world today. I hope you feel so proud of what you've accomplished! #PierceStrong

...AND Even From The Parents Of A Staff Member:

We just wanted to say thank you for an amazing summer at Pierce. When Michael attended as a young boy, we never considered that he might work there one day. To be frank, you saved his summer. Michael enjoys work, and he needs a purpose. The prospect of a long summer at home with no real responsibility was not appealing to him, or us. Thank you to the entire Pierce family for opening this summer, for giving your campers a place to be kids, and for giving your employees a warm and welcoming environment to work in. We know that however hard it is to run a camp is NOTHING compared to running a camp during Covid. Please know that we see this and appreciate you and your family for providing a wonderful work experience for Michael.